CLEMENTI CAMPUS
One of the two Japanese Primary Schools is located at 95 Clementi Road, directly opposite the National University of Singapore (NUS).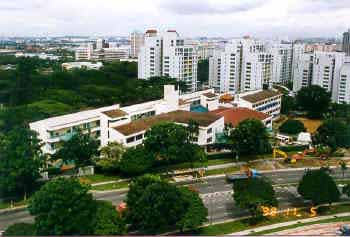 The building includes a sports field, a swimming pool, two play grounds, and a pet corner, in 20,825 m2. The building houses an auditorium and a gymnasium. There are two libraries, a laboratory, an audiovisual studio, a computer lab as well as rooms for specialized studies, such as music, arts and crafts, home economics, and rooms for music immersion. Heritage rooms are also provided to display the precious books, photos, and other historical items.
The Clementi Campus has been functioning as the Head Quarters since the Primary School was split up in 1998.