SCHOOL YEAR
School Term
1st Semester   :  April 2019 – August 2019
2nd Semester :  September 2019 – December 2019
3rd Semester  :  January 2020 – March 2020
School Holidays
Summer Holidays : 1st August – 31st August 2019
Winter Holidays    : 24th December 2019 – 6th January 2020
Spring Holidays     : 20th March 2020 – 11th April 2020
Compared with standard holiday terms in Japan, the Spring Holidays are a little longer and the Summer Holidays are a little shorter here at the Japanese School in Singapore.
Examinations
Schooling from Primary 1 up to Secondary 3 for 9 years is compulsory in the Japanese education system: The students can attain a Certificate of Graduation as long as they perform modestly to the requirements.
The Primary School gives no standardized tests for screening or streaming. They may take achievement tests to identify their level of understanding in order for teachers to plan better and for parents and children to know their level of achievement.
The Secondary School students are expected to take two exams in each of the three terms, namely mid term and term-end exams. Their results from the term exams will affect their selection of high schools and their performance must be reported to the high schools to which they apply.
In the Japanese system, the highest academic pressure on students is felt by high schools preparing for the entrance screening.
Bussing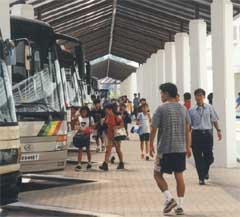 One unique feature of the Japanese Schools is that the schools arrange for their students to ride on the school buses to and from school everyday. This is a tremendous task for all the individual Japanese teachers because they have to ensure that all the students get on their buses on time in order not to miss their bus home everyday. The number of buses ferrying the children each day ranges from 30 to 35 buses per school.
Public Holidays
There are 11 public holidays in Singapore such as
New Year's Day,
Chinese New Year(two days),
Hari Raya Puasa, Good Friday,
Labor Day,
Hari Raya haji,
Vesak Day,
National Day,
Deepavali
Christmas.
In addition to these public holidays, 4 Japanese Public Holidays are observed in the Japanese School in Singapore such as
Constitution Memorial Day,
Children's Day,
Emperor's Birthday.